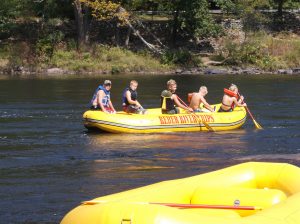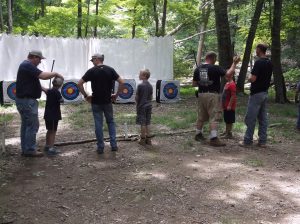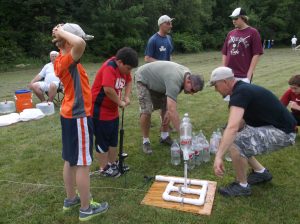 What is Cadets?   It's a scouting program for boys in grades   1- 8.  We meet the first and third Monday night of the month in the church basement from 7-8:30 pm.
What happens at a Cadet meeting?  Well, first the boys are divided up into 2 groups, Junior Cadets (grades 1-3) and R-P-B, which stands for Recruit, Pathfinder, Builder (grades 4-8) and our night usually begins with a short Bible lesson where we discover what God's word  says about the things we do every day.  Next, comes activity time where we either work on a merit badge from our Cadet Guidebook or work on a craft.  After that we usually end our meeting with a short game time before calling it a night and heading home.
In addition to our regular meetings we also have many outside activities.  We go camping, go on hayrides, participate in pinewood derbies, go mini-golfing and compete in winter rallies where we show the skills we've learned and compete against other local Cadet clubs.  We've also taken trips to Gettysburg PA to tour Civil War sites, to Massachusetts to sleep on battleships, to Strasburg PA to ride old steam trains.  These are only a few of some of the things we've done in the past.
Cadets is a fun, safe and supervised program for boys to participate in.   Another great thing about Cadets is that it's pretty much cost free.  Some of our activities do have a cost associated with them but we try to keep them to a minimum and supplement them as much as we can.
If Cadets sounds like something your son might like or that you would like him to be involved in, give the church office a call at 973-595-8573.  Brenda, our administrator, can take your name and number and we can call you to answer any questions you might have.  You're also welcome to come to a meeting and see what goes on.  We look forward to see you.
Our first meeting is September 18 at 7 pm in the church basement.